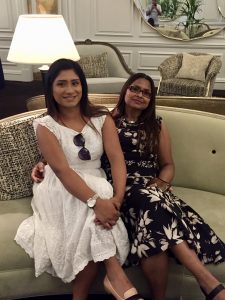 This picture represents a time where I have felt most body confident. Why because I had lost a significant amount of weight.  I was extremely happy that I had worked hard to achieve this goal with the help of those closest to me.
I took this picture in Harrods with my mother for her birthday – the beautiful woman sitting next to me. Prior to this, I would never have willingly taken a picture posing next to someone as I would never have felt like I could compete or compare to the other beautiful women in my life.
Working in Marketing at Curado and being an ICare Ambassador for the company requires confidence and has given me a lot of this.  I personally know how having such little of this can be debilitating. Once I learnt and truly understood what the phrase 'Beauty is in the eye of the beholder' meant, did I really start to shine and let people see that a person can be more than just a pretty face and it's about what is on the inside that counts.